BlueAnt X0 Bluetooth Speaker – Wireless Speaker
The BlueAnt X0 Bluetooth Speaker is a compact, way to enjoy music, podcasts, audiobooks, and more.
It has a built-in microphone for making handsfree calls.
Big sound in a small package.
Features: Portable 6-Watt Bluetooth Mini Speaker.
Up to 13 hours play time. Bluetooth« 5.0. Bluetooth« and Aux playback options.
True Wireless Playback for 2 speakers. IP67 Waterproof. Siri/Google Integration.

PORTABLE 6 WATT BLUETOOTH SPEAKER
The BlueAnt X0 Bluetooth Speaker is highly portable speaker with crisp clear highs, solid mids and excellent bass through the use of a custom speaker and passive radiator coupling.
IP67

WATERPROOF
The pool, beach and spills are no problem with the IP67 waterproof rating.
A MINI BLUETOOOTH SPEAKER WITH UP T0 13 HOURS PLAY TIME
Built in 1800 mAh rechargeable battery provides up to 13 hours of playtime
DOUBLE THE AUDIO WITH DUO MODE
Simply pair two BlueAnt X0 Bluetooth Speaker for a wide stereo soundstage.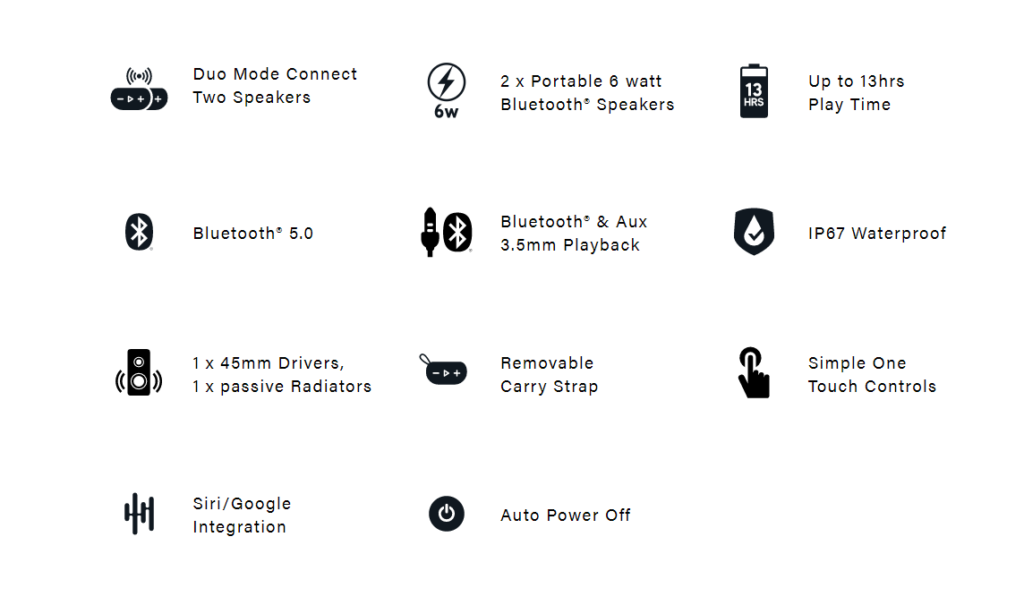 PRODUCT FEATURES
It connects to your device wirelessly via Bluetooth technology.
It has a compact size which makes it great to take on the go.
It has a built-in microphone so that you can make handsfree calls.
A 12 month warranty is included.
It comes in a blue design.
TECHNICAL SPECIFICATIONS
Connectivity: Bluetooth 4.0
Watts: 6
Assistant Integration: Google & Siri
Battery life: 13 hours
Microphone: No
Noise Cancelling: No
ADDITIONAL RESOURCES