CLIPSAL Impress Z Wave Dbl Dimmer Switch – Z Wave Qubino 2 Gang Smart Dimmer Switch
This is an updated version of the Z-Wave Dimmer Lighting Set with improved functionality.
This CLIPSAL Impress Z Wave Dbl Dimmer Switch set allows you to control a double lighting circuit with Z-Wave.
It allows for remote control using a connected Z-Wave gateway or manual control using the momentary/push button.
Two QUBINO Z-Wave Dimmer InWall Controllers
One Clipsal 2 Gang Impress Series Wall Plate
Two Clipsal Impress momentary/push buttons
The QUBINO Z-Wave 2 Dim Clipsal Impress InWall Controller (by GOAP) includes additional features compared to the previous dimmer used in this set.
It uses the latest 500 Series Z-Wave chip, has a greater communication range and is fully integrated with Vera ADD Wizards as "Qubino Flush Dimmer ZMNHDD1".
It also allows for 2-3 way wired switching.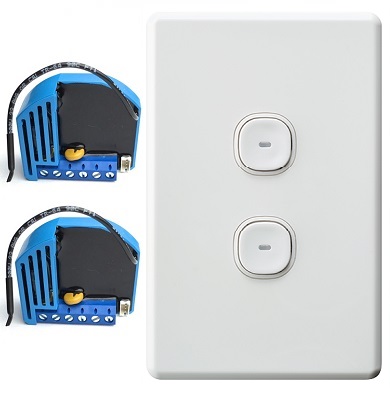 CLIPSAL Impress Z Wave Dbl Dimmer Switch Series Wall Plates are available in the following colours; Chrome, Gold, Brushed Aluminium, Brushed Brass and White. Please specify the colour in your order comments.
An LED option is available for the Clipsal buttons.
The LED is always on and helps you to locate the button in the dark.
You can order the LED option for your buttons by clicking here
Note: This product must be installed by a qualified electrician.
Manuals:
Dimmer Technical Specifications
RF Protocol

Z-Wave Plus™ , SDK version: 6.51.03

RF Frequency

921.42Mhz ‐ AU/NZ  approved RF for Z‐wave

Application

Indoor use only

Power

0.6 A / 230 VAC

0.85 A / 30 VDC

Operation Range

50m with no obstacles

Enclosure

Comliance

Operating Temp.
 -10C ~ +40C

Dimensions

41.8mm x 36.8mm x 15.4mm