Moki 7800 mAh Power Bank
Moki 7800 mAh Power Bank charge your portable USB devices anywhere, anytime.
7800mAh is the ideal size for extended trips when you don't have access to power for a couple of days or heavy smartphone users who find they constantly need a daily top up.
Will fully charge most smartphones 2-3 times before recharge is required.
The dual 1A 2.4A outputs makes it suitable for charging tablets and fast charge devices.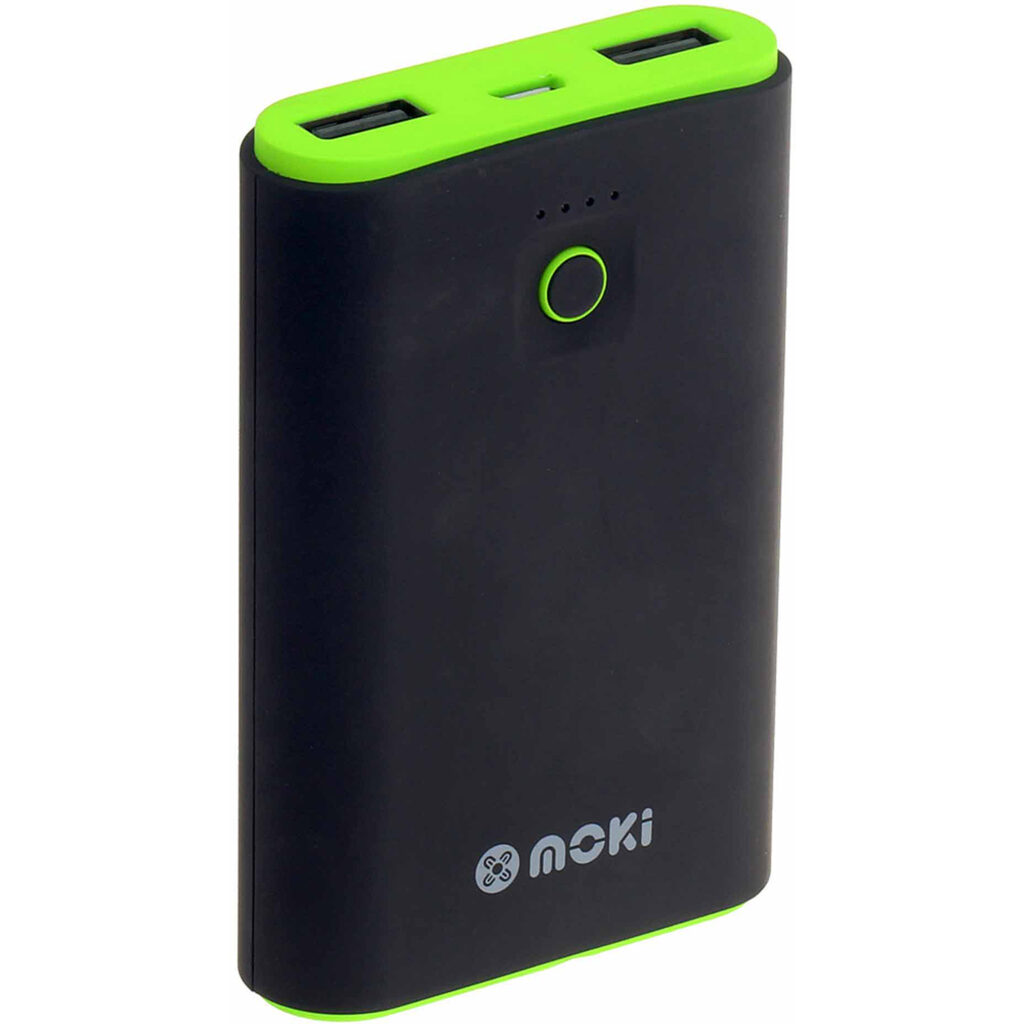 This Moki 7800 mAh Power Bank USB portable power pack is the Big Daddy of them all and ideal for extended trips away.
This PowerBank 7800 you'll get at least 2-3 full phone battery charges before needing to recharge it with access to normal available domestic power.
If trips away are a regular event then this portable power pack from Moki is your best insurance for ensuring you'll never get caught with a flat battery in your smartphone, tablet or portable computer.
This Moki 7800 mAh Power Bank delivers a whopping 7200mAh and with dual 1A and 2.4A USB power outlets, it provides a continuous and plentiful capacity for both smartphones, tablets and other fast charge devices.
PRODUCT FEATURES
The Moki 7800 mAh Power Bank has 7200mAh of available power, which is plenty for two or three full recharges for your smartphone and also for tablets, fast charge devices and portable computers etc.
Quick recharge smartphones and devices within just two hours.
Full power charges from flat status are due to the combination of the integrated Lithium-ion cell with smart efficient wiring systems that deliver high power transfer capacity.
MOKI power banks have been designed by their advanced electronic engineering team to precise manufacturing standards to guarantee continuous performance, robustness and long-term reliability.
The PowerBank 7200 has a full 12 months MOKI factory warranty.
The aesthetically pleasing black and green soft casing design, size and amazingly light weight make it easy to stow and for quickly accessible convenience.
Total full-charge time of the power bank itself is 8 hrs via USB.
Features integrated overcharge protection.
Smart digital component use delivers high-efficiency power transfer.
The Power Bank 7200 delivers a big punch for such a small size of only 10.5cm long, 6.2cm wide and 2.2cm deep.
Only weighs 172grams.
Dual USB Power Outlets 1A AND 2.4A.
Power Input: 5V.
TECHNICAL SPECIFICATIONS
| | |
| --- | --- |
| Brand | Moki |
| Model | USB |
| Type | Power Bank 7800 |
| Manufacturer Code | ACC MPB7800B |
| Manufacturer Form | Office Supplies |
| Category | Power Bank Rechargers |