Aeotec Z-Wave Nano Single Switch
Make all your Lights Smart Lights…Simply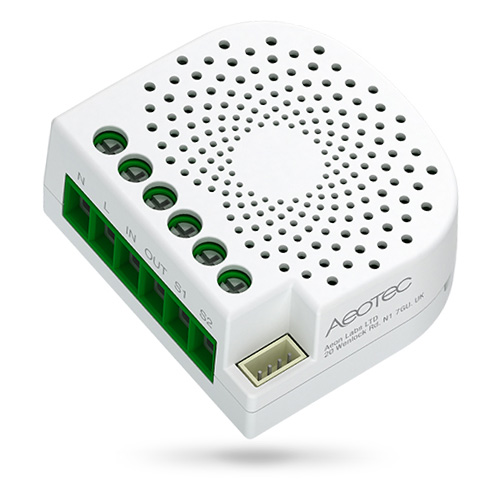 Perfect lighting is a part of every truly smart home.
Lighting that is responsive. That's always on when you need it, and off when you don't.
Achieving perfect smart lighting has not always been easy…
Until now. The Aeotec Z-Wave Nano Single Switch offers smart, Z-Wave connected lighting without any of the hassle.
Perfectly Small
To make an in-wall lighting controller this perfect means working from the ground up.
Despite now being 60% smaller than the original technology, every single millimetre of the Aeotec Z-Wave Nano Single Switch benefits from Aeotec's 10 year's experience.
That decade's worth of expertise makes Nano Switch compact without compromise.
43.5mm x 39mm x 19.5 mm
Easy to Install
Add the Aeotec Z-Wave Nano Single Switch to your Z-Wave system. It will make your lights smarter. It makes them responsive.
It gives you the ability to control them, schedule them and make your lights truly smart.
All of this control and intelligence simply comes from having an electrician wire the Nano Switch behind your existing light switch….in minutes.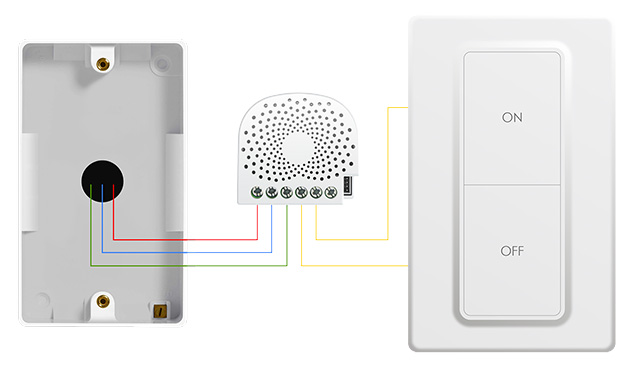 Works with virtually any Switch
The Aeotec Z-Wave Nano Single Switch has been designed to enhance your home, not to completely change it.
That is why it is been designed to work with most of the light switches typically found in homes, new or old.
It installs invisibly behind them, enhancing their functionality instead of completely replacing it.
Perfectly Safe
Your lighting may be perfect, but that doesn't mean the electricity powering it is. Things happen. Surges happen and are common, and Nano Switch protects against them.
With a in-built surge and overload protector, the Aeotec Z-Wave Nano Single Switch not only keeps your lighting connected it keeps them protected.

Perfectly Upgraded
The Aeotec Z-Wave Nano Single Switch dramatically improves the lighting in your home.
Aeotec's 3rd generation of invisible lighting controller outperforms all that has come before it.
Automation and intelligence have never been more powerful. And it comes in such a small size, that you'll be amazed at just how much functionality Aeotec were able to craft inside…
Stronger Signal
Without using any more energy, Nano Switch offers greater wireless reliability than all before it. Its wireless signal is now +2.5dBM more powerful so that Nano Switch can offer a 50% greater wireless range that's up 150 metres.
250% Faster
Your lighting should be responsive. Nano Switch responds in milliseconds – 250% quicker than previous models.
Safe Wiring
Because of the high amps it carries and to avoid issues such as stray voltage Nano Switch only works with switches and outlets that utilise a neutral wire. Nano Dimmer is an alternative that works with or without a neutral wire.
Easier Wiring
It's quicker to install and it's also easier to wire. Now 60% smaller than previous in-wall switches, Nano Switch fits into even tighter spaces. It also connects to wires 25% thicker than past models.
Low Voltage too
Nano Switch is great with high voltage and low voltage. It can be used to control 24VDC electronics such as light strips, alarms, doorbells, and other low-powered devices (ZW139 non-power metering model only).
See your Spend
It powers automation and scheduling – and it also monitors energy consumption (ZW116 model only). Super-accurate energy metering technology records electricity use with 99% accuracy.
Independent Scheduling
The power of Z-Wave means that Nano Switch can be intelligently automated. It can also be scheduled to switch on and off on a timer… even if your Z-Wave gateway is down.
DIN Rail Compatible
Want to use it with a DIN rail? Pair Nano Switch with a generic DIN housing or module box for DIN rail compatibility and you'll be able to use it with DIN rail systems.
Gen 5
Nano Switch is built upon Aeotec's leading Gen5 technology and is powered by the latest version of Z-Wave — Z-Wave Plus.
Wireless Updates
Technology changes and Nano Switch changes with it. Nano Switch allows for firmware updates to be wirelessly installed via Z-Wave Plus so that it remains at the cutting edge.
Secure Lighting
Because it's built upon Z-Wave Gen5, Nano Switch features banking grade, AES-128 bit encryption to protect the Z-Wave wireless communication.
PRODUCT SPECIFICATIONS:
ADDITIONAL RESOURCES