VIP Vision 1MP WiFi Intercom Doorbell – Residential IP PoE Intercom Door Station
The VIP Vision 1MP WiFi Intercom Doorbell is a single channel video intercom solution ideal for homes and single-premises buildings.
It can be operated via a single backlit button or via an NFC-capable card, with voice prompts to inform the user about door lock, call & resident status.
Also features door sensor and door strike integration, remote unlock via smartphone, and visitor audio/video messaging functions.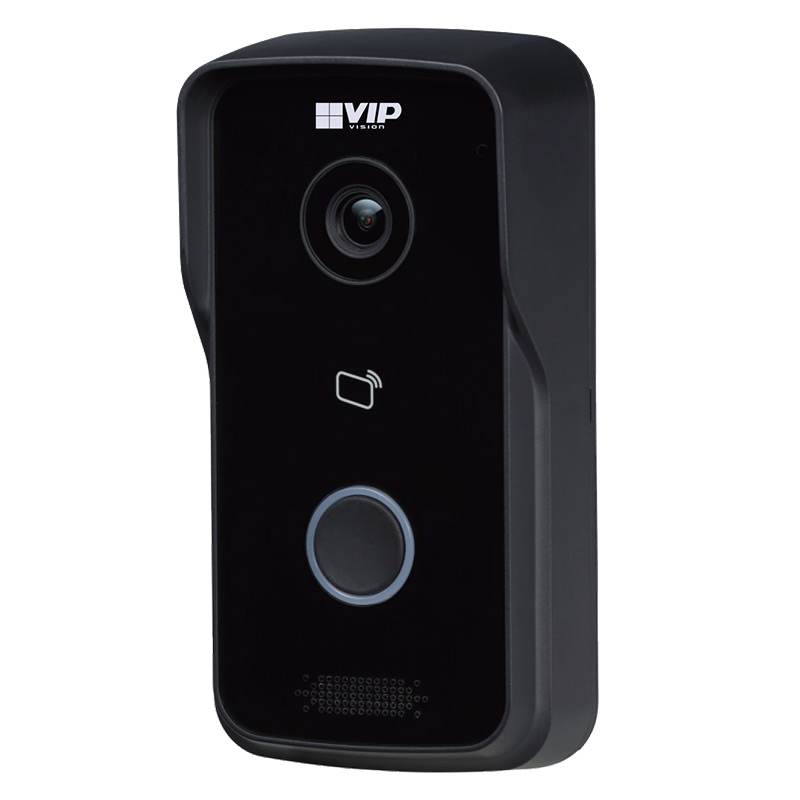 PRODUCT FEATURES 
VIP Vision 1MP WiFi Intercom Doorbell features door station camera monitoring, visitor logging, and audio/video messages.
It can also voice calls to other monitors across the same network.
1/4'' 1.0MP camera with 122° FOV
Built-in microphone and speaker for the 2-way talk
Built-in NFC card reader for keycard access (up to 10,000 NFC cards)
Connect with intercom monitor(s) via Ethernet
Door control, alarm and RS485 input/output relays
Intuitive, easy-to-use interface
Power over Ethernet (12VDC, 802.3af)
IP65 rated weather resistant matte plastic body (front plate)
We recommended that Door Stations are mounted in a sheltered location, not exposed directly to weather, as only the front plate is weather resistant.
When installing the VIP Vision 1MP WiFi Intercom Doorbell, apply outdoor silicone sealant between the Door Station & the wall, & seal the hole that has been created for the cable to prevent water ingress.
If using a mounting box, ensure the box is sealed, & the included waterproof rubber seals are used when installing the screws.
How Technical Is It To Use?
The VIP Vision 1MP WiFi Intercom Doorbell functions with a single backlit button for communication, and the monitor operates via the touch-screen.
The system can handle missed, placed and received call details, visitor video & audio messaging, and group calling.
As you can see, the intercom can be used as a fully operational messaging service alongside a day-to-day door unit.
What's more – it offers full support of compatible door sensors and strikes integration.
ADDITIONAL RESOURCES