VISION Z-Wave Outdoor Strobe Siren – Wireless Battery Alarm Siren
VISION Z-Wave Outdoor Strobe Siren is a wireless battery powered device capable of producing an audible and visual alarm.
Compatible with any Z-Wave or Z-Wave+ Gateway Controller.
Supports Z-Wave network security mode with AES-128 encryption.
Powered by 4 "D" batteries (included) – approx. 2 years battery life.
Suitable for outdoor use – IP 66 rated.
Anti-tamper alarm and low battery alert.
Operation temperature -10°C ~ 60°C.
Loud 115dB (@ 1meter) audible siren.
Weight: 1.7 Kg. Dimensions: 220mm (h) x 200mm (w) x 65mm (d)
This device is designed to operate alongside a Z-Wave enabled sensor which can detect a threat to your household.
We recommend selecting any of the Z-Wave sensors from our store by clicking here.
Alternatively you can use it with the FIBARO Z-Wave Button as a convenient and easily accessible panic alarm in your home or office.
The VISION Z-Wave Outdoor Strobe Siren also includes a battery status indicator which will notify you when its battery level is low and a tamper alarm which will alert the associated Z-Wave gateway if anyone attempts to tamper with this device.
PRODUCT FEATURES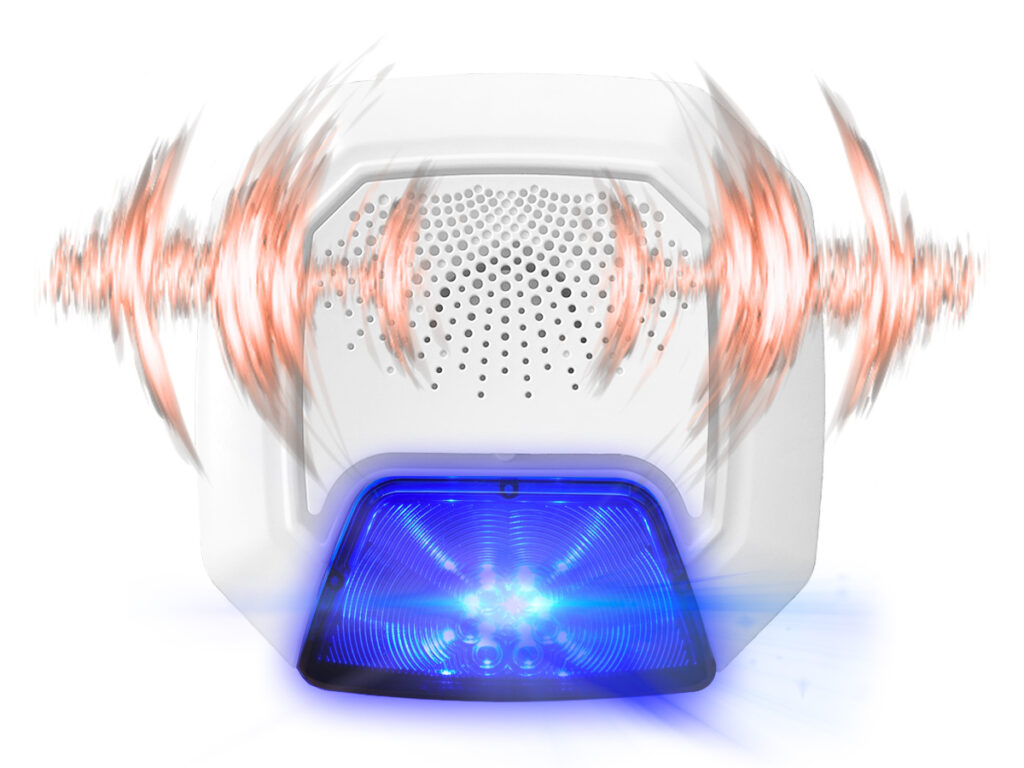 Home. Safe. Home.
Featuring a loud 115 dB siren and flashing blue strobe.
Easy DIY installation and rated IP66 for outdoor use – even harsh Australian conditions.
Completely Wireless
DIY – No wiring required. Powered by 4 "D" size batteries (included) with 2 years battery life.
Loud Siren
Incredibly loud 115 dB siren – (adjustable auto-off: 30, 60, 120 seconds or manual off).
Flashing LED Strobe
In combination with the loud siren a blue LED strobe will also flash when the alarm is activated.
Anti-Tamper Protection
If someone tries to tamper with the casing, the siren and strobe will be instantly triggered.
Rated IP 66
Water projected in powerful jets (12.5mm nozzle) against the enclosure from any direction shall have no harmful effects.
Heat Resistant ABS
Built to withstand the harsh Australian sun.
Made from durable heat-resistant ABS material, able to withstand temperatures up to 60° C.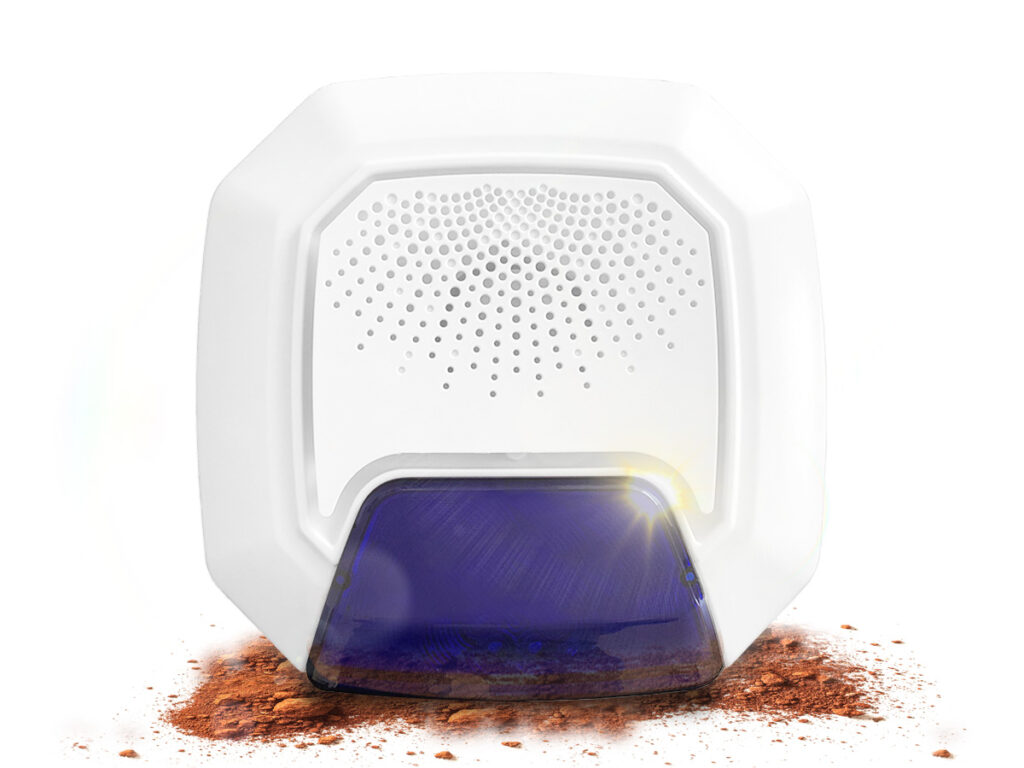 Simple to Install
In 4 easy steps, you'll have the VISION Z-Wave Outdoor Strobe Siren installed and part of your Z-Wave network…
Step 1
Insert 4 "D" batteries into the Vision Outdoor Siren.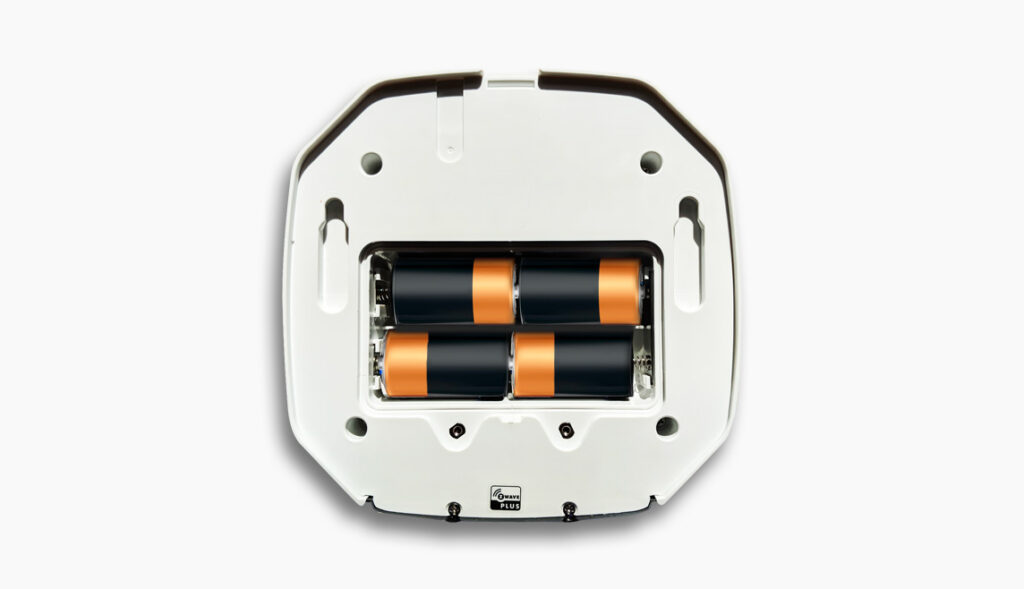 Step 2
Wirelessly pair the VISION Z-Wave Outdoor Strobe Siren to your Z-Wave Gateway Controller.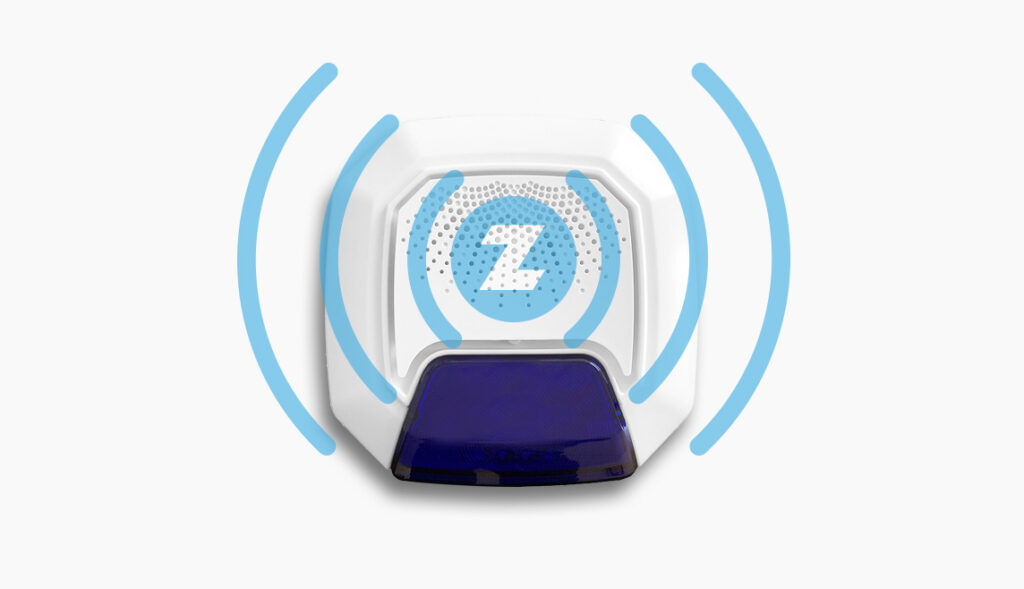 Step 3
Screw the mounting bracket to your desired location.
Step 4
Attach the main body of the VISION Z-Wave Outdoor Strobe Siren to the mounting bracket.
This VISION Z-Wave Outdoor Strobe Siren integrates with all Australian certified (921.42MHz) VISION Z-Wave Outdoor Strobe Siren controllers including:
Vera Edge
Vera Plus
Fibaro Home Center 2/Lite
Homeseer HS3
REMOTEC Z-Wave Universal Remote Controller
RaZberry Pi
Resolution security panels
Alarm.com security panels
Note: This device includes D batteries.
Configuration Command Class
Parameter 1: Siren/ Strobe Mode, 1 Byte
Value: 0=Siren and Strobe enabled (default), 1=Siren only, 2= Strobe only.
Parameter 2: Alarm auto stop time command, 1Byte
Value: 0=30 seconds (default), 1= 60 secs, 2= 120 secs, 3= Siren will not stop automatically.
ADDITIONAL RESOURCES
TECHNICAL SPECIFICATIONS
| | |
| --- | --- |
| RF Protocol | Z‐Wave, Z-Wave PLUS Certification |
| RF Frequency | 921.42Mhz ‐ AU/NZ approved RF for Z‐Wave |
| Z‐Wave device type | Z-Wave binary switch |
| Internal Alarms | Tamper, Low Battery |
| Operating Power | 4 D batteries (included) |
| Connection Type | Wireless |
| Operation Range | Up to 50m indoor with no obstacles |
| Application | Outdoor IP 66 |
| Operation temperature | -10°C ~ 60°C |
| Loud Audible Alarm | 115dB @ 1meter |
| Weight | 1.7 Kg |
| Housing | ABS |
| Dimensions | (H x W x D) 220mm x 200mm x 65mm |
| Compliance | RCM, CE |