Chuango Outdoor WiFi Strobe Siren
The Chuango Outdoor WiFi Strobe Siren is a perfect deterrent to a potential intruder.
Installing a strobe siren will not only make a lot of noise if activated but it warns people there is an alarm system protecting your home.
Siren 105 dB suitable for outdoor, with flashing light.
It communicates wirelessly with the alarm panel, and hereby when an intrusion or event is detected, besides sounding the internal siren of the panel, this powerful siren will also sound and light.
It is the ideal complement to any alarm system, as the main function of these systems is to scare off potential intruders or alert in case of external event.
Without any doubt, the siren will help fulfil this mission perfectly.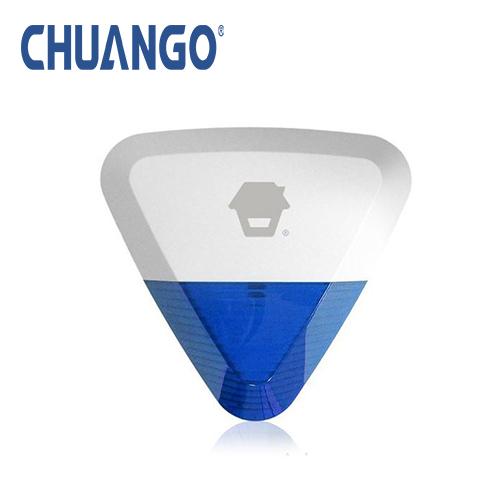 There is a tamper switch on the back of the strobe siren so if anyone tries to remove it from the wall it will trigger the siren and strobe.
The siren volume is 105dB which is loud enough to scare anyone away.
The Chuango Outdoor WiFi Strobe Siren must be plugged into a mains powered outlet and it also has a built-in battery backup in case of power loss.
You can add as many strobe sirens to your alarm system as required.
PRODUCT SPECIFICATIONS
WiFi Transmission range: 40 metres (open area)
WiFi Transmission range: 30 metres (through two walls)
Battery Type: 1 x 18650 Rechargeable Lithium
Battery life: 5 years
FURTHER PRODUCT INFORMATION