ZigBee Indoor Siren
The ZigBee Indoor Siren with battery life of more than two years.
With a siren output level of 102dB at 1 meter, this ZigBee Indoor Siren activates different alarm sounds for fire and intrusion to audibly inform the user of the type of danger at hand.
The ZigBee Indoor Siren provides programmable alarm duration of 3, 5 or 10 minutes.
This dual-purpose siren also receives signals from the control panel to emit entry and exit delay beeps.
If your control panel is distant from the front door and you have difficulty hearing its entry and exit delay beeps, the ZigBee Indoor Siren can serve as a useful reminder device.
It can be configured to emit entry and exit delay beeps that urge you to disarm your security system or leave quickly.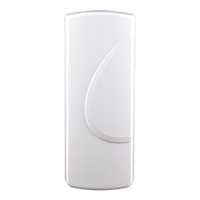 The ZigBee Indoor Siren transmits low battery and supervisory signals to ensure its operation is properly monitored and maintained.
Its cover tamper protection prevents unauthorised removal.
Compatible with other manufacturers' ZigBee systems and devices, this wireless siren can be flexibly installed on commercial or residential premises to provide effective warnings and reminders for the user.
PRODUCT FEATURES & SPECIFICATIONS:
Battery life of more than two years
Siren output level is 102dB at 1 meter
Different alarm sounds for fire and intrusion
Programmable alarm duration of 3/5/10 minutes
Receives signals from the control panel to emit entry and exit delay beeps
Transmits low battery and supervisory signals
Cover tamper protection prevents unauthorised removal and vandalism
Compatible with other manufacturers' ZigBee systems and devices
Compact and sleek design
Easy to install
Completely wire-free
ZigBee Certified product
Compatible with the Securifi Almond 3 Gateway
Compatible with the Securifi Almond 3S Gateway
ADDITIONAL RESOURCES