REMOTEC Z-Wave Thermostat 500
The REMOTEC Z-Wave Thermostat 500 is a programmable electronic thermostat controller allowing you to keep your home at a comfortable temperature at all times.
A smart thermostat such as the REMOTEC Z-Wave Thermostat 500 is designed with the end user in mind. It combines compatibility with any Z-Wave certified controller or gateway with an incredibly simple and intuitive user interface.
Support 2 stage heat, 2 stage cool, 2 stage fan
24Vac single & two stage conventional heating systems (gas/oil/electric)
Heat pump systems with up to two stages of heating (electric/gas)
Zoned forced air and zoned hot water (2 or 3 wire)
Millivolt systems (12-24Vac or DC source)
Can be controlled by android smartphones and iPhones (via home controller)
One or two stage cooling systems
Hybrid systems
Z-Wave Dual mode (FLiRS, Always Listening)
PRODUCT FEATURES
The REMOTEC Z-Wave Thermostat 500 is an intelligent, programmable thermostat controller with a blue  display which is easy to read even in dimly lit areas.
This thermostat delivers permanent day and time settings that are even maintained during power outages.
It offers the option to remotely control / check your room temperature via a smart phone or PC which is associated with your Z-Wave Home controller.
For added convenience, the thermostat unit can be run using battery power or using power from your heating/cooling system, giving you the option of permanently eliminating battery changes.
This thermostat is compatible with a broad range of 24-volt heating and cooling systems, including both single-stage (cooling) and single and two-stage heating systems (non-heat pump), single-stage heat pumps, and heating-only or cooling-only systems. Uses standard thermostat connections: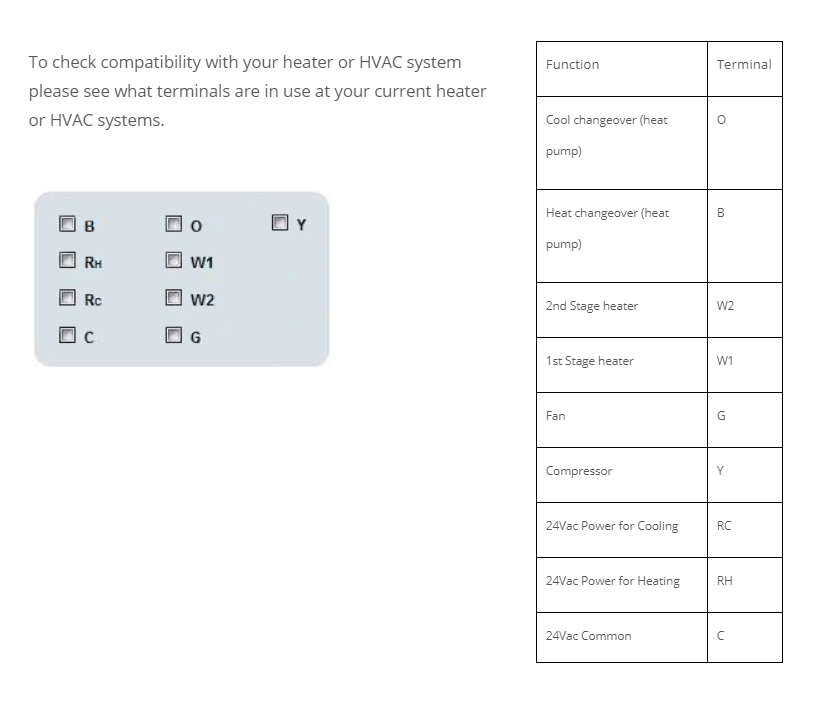 This product integrates with all Australian certified (921.42MHz) Z-Wave controllers including:
Vera Plus/Edge/3/Lite
Fibaro HC2/3/Lite
 Please Note:
This device is not compatible with electric baseboard heaters (120 to 240 volts).
It is also not compatible with some multifunction 2-wired Japanese brand heaters and HVAC systems.
If you are not feeling confident with installing this thermostat get a heater/ac installer to do this job for you.
This thermostat is backed by a one year limited warranty.
ADDITIONAL RESOURCES
TECHNICAL SPECIFICATIONS
RF Protocol

Z‐Wave

RF Frequency

921.42Mhz ‐ AU/NZ  approved RF for Z‐wave

Z‐Wave device type

Z-Wave Plus Thermostat, Routing slave

Relay Contact

Voltage 24 VAC 50/60 Hz

Current: 1A Max (inductive)