Reolink 5MP PoE IP Night Vision Security Camera – Waterproof, Audio Recording with MicroSD capability
5 Megapixels Super HD
The Reolink 5MP PoE IP Night Vision Security Camera with a pixel resolution of 2560×1920, that is, nearly 2.4X the resolution of 1080p Full HD, and even 1.3X the resolution of 1440p.
It sees your home security more clearly, with more details.
Motion Detection — Smartest Way for Alerts
Whenever a danger is detected, this Reolink 5MP PoE IP Night Vision Security Camera will trigger alerts by immediately sending alert e-mails and pushing notifications to your device.
It also captures and saves images/videos at the same time.
You can adjust motion detection sensitivity to reduce false alerts.
 Email Email photos or 30-second video clips 
App Push notifications to your mobile device  
         FTP RLC-410 can save and upload captured images & videos to an FTP server   
 SD Card (Optional)
This Reolink 5MP PoE IP Night Vision Security Camera comes with an SD card slot for SD card motion recording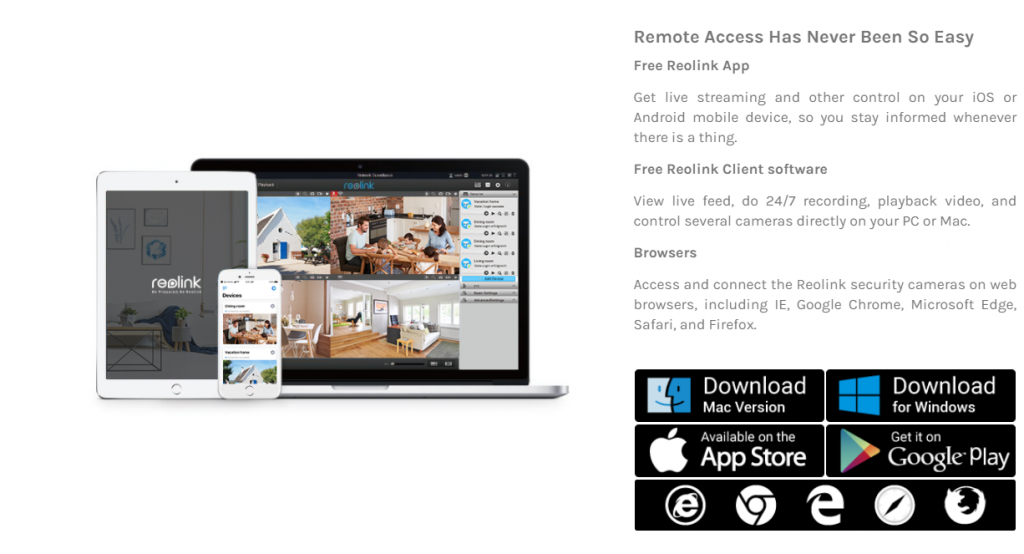 You can stay connected from anywhere, and if there is a thing happening, you will receive emails and notifications, alerting you to dealing with the emergency timely.
PoE Makes Easier Wiring and Installation
The Power over Ethernet (PoE) is an advanced technology, which enables you to use a single network cable for both video and power transmission.
Therefore, the Reolink 5MP PoE IP Night Vision Security Camera makes the wiring simplified and installation easier.
The best choice for DIY enthusiasts!
Waterproof Work Perfectly Outdoor as Well as Indoor
Reolink 5MP PoE IP Security Camera Video Home Safety IR Night Vision Waterproof is with an IP66 waterproof rating.
So you can feel free to install it outdoors, like in your garage, backyard, or anywhere else.
It can stand harsh weather conditions, including rain, snow, intense cold and heat.

24/7 or Motion Recording, You Decide
This Reolink 5MP PoE IP Night Vision Security Camera supports both motion-activated recording and continuous recording.
24/7 recording is ideal in high-traffic areas like store entrances, while in lower activity regions like warehouses or at night, motion recording can help you save storage space.
Free Firmware Update — Easy, Quick and Flexible
Reolink firmware update for IP security cameras is very easy – download firmware on the firmware page and update the firmware on the client software.All is free! Learn moreThe process of firmware release and upgrade is flexible and quick too.
We collect your feedback.
Our R&D team research and do fixes.
The latest firmware version is available to you shortly.
PRODUCT SPECIFICATIONS:
Features: Audio Recording
Connection Type: Wired – Ethernet IP Cat5e/6 NVR System
Camera – Resolution: 5MP – 1920P (2560×1920)
Smart Home Compatibility: Amazon Alexa / Google Assistant
Surveillance Technology: IP Network
Camera Style: Reolink Outdoor Bullet POE Security Camera
Storage: Built-in Micro SD slot
What's in the Box
RLC-410-5MP
Mounting Template
USB Cable
Waterproof Lid
Reset Needle
Surveillance Sign
Quick Start Guide
Pack of Screws
ADDITIONAL RESOURCES: