Swann 4 x 8MP 4K Spotlight Audio Camera with 2TB NVR – 2 Way Audio, True Detect Motion & Heat PIR Sensors (NHD-885MSFB)
Peace of Mind From Every Angle
The Swann 4 x 8MP 4K Spotlight Audio Camera with 2TB NVR Security System offers peace of mind, from every angle, every time from anywhere and anytime 24/7
Reliable Wired Connection
Protect your loved ones & property with this multi-camera, wired surveillance system with everything you need to do-it-yourself or have it professionally installed
See & Hear Everything in Ultra HD
See faces, license plates, packages & capture audio with state-of-the-art 4K Ultra HD, that's 4x clearer than 1080p with powerful digital zoom – ensuring you won't miss a thing
Protection 24/7
Know what's happening at any hour with powerful infrared night vision up to 130ft/40m in total darkness & the ability to see colour video at night up to 115ft/35m when the spotlights are on. Add 4 more cameras for full 8 channel monitoring
Heat Sensing
Swann's True Detect™ heat & motion detection triggers video recording, push notifications and turn on the spotlights when it detects motion with heat.
Set & Forget
Enjoy local recording for up to 300+ days onto the massive 2TB hard drive with no fees ever. Save footage directly to your Dropbox account to have image evidence safely stored off-site
Prevent Unwanted Activity
The 4 Sensor Spotlight Cameras turn the lights on & trigger recording when they detect heat. The 2-way audio & siren let you talk back & scare off intruders
Speak to See
Enjoy hands-free security using voice commands. Stream video from your camera via the Google Assistant & Chromecast, Google Home Hub, or via Alexa devices with a screen, such as Echo Spot, Echo Show or 4K Fire TV.
Audio Adds Another Layer of Evidence
Hear off-screen noises and identify voices by their gender, age, accent & language. Record conversations and make sure your staff and patrons are safe and being looked after with this Swann 4 x 8MP 4K Spotlight Audio Camera with 2TB NVR security system
Spotlight Colour Night Vision
The super bright spotlights turn on with warm activity near the camera, like people & cars. Get colour video up to 115ft (35m) so you can see clothing colours, car colours and more.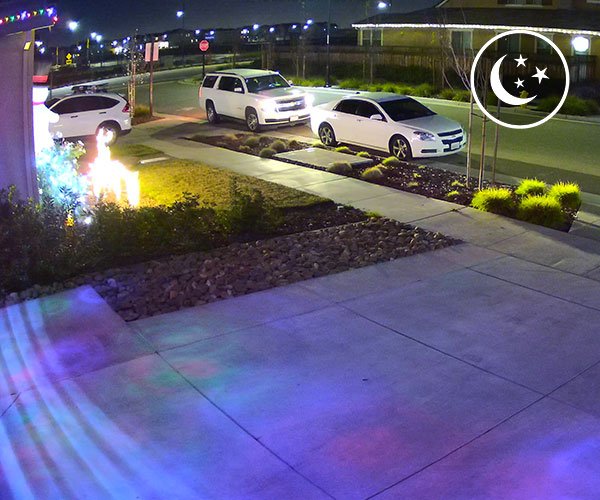 Monitor the Outdoors
The cameras from the Swann 4 x 8MP 4K Spotlight Audio Camera with 2TB NVR security system can be mount indoors and outdoors. They are Weatherproof design, IP66 rating. Built to withstand rain, shine, snow & dust.
Save Evidence Off-Site
Upload footage from up to 2 cameras and still images from all cameras to your Dropbox account in the cloud. So even if your video recorder gets stolen, you'll have video evidence off-site.
Free Storage to Hard Drive
The massive 2TB HDD can store months of footage before overwriting older ones. Easily transfer videos to a USB stick or download via network with no ongoing fees ever.
Easier Installation with Power over Ethernet
Power, video and audio run through a single Ethernet cable per camera with Power over Ethernet cabling, PoE, making installation a lot simpler.
Smart Video Analytics
Video analytics recognise visual elements to trigger recording & alerts. Set up Face Detection, Line Crossing Detection, Perimeter Intrusion Detection, Static Object Detection, Person Detection & Crossing Counter. See video section further below.
Expand Your Security
Add up to 4 more cameras for a total of 8 to cover any blind spots in your property with the Swann 4 x 8MP 4K Spotlight Audio Camera with 2TB NVR security system.
TECHNICAL SPECIFICATIONS
NVR-8580 8 Channel Network Video Recorder
Video
Video Input: 8 Channels
Video Outputs: VGA, HDMI
Display Resolution: Up to 4K
Audio
Audio Input: 8 x via PoE Ports
Audio Output: 1 x RCA, 1 x HDMI
Recording
Recording Resolution: Up to 4K (8MP)
Hard Drive Support: Includes 2TB SATA HDD (supports up to 6TB)
Connection
Network Interface: RJ45 Port x 1
USB Interface: USB 2.0 x 3
Software
Computer Operating System: Windows, Mac OS
Internet Viewing: Swann Security App
Handheld Device Supported: iOS, Android, 4G/5G Smartphones & Tablets
General
Dimensions: 9.25″ x 12.2″ x 2″ 235mm x 310mm x 53mm
NHD-885MSFB Spotlight IP Security Camera
Video
Video Quality: 4K (3840 x 2160 pixels)
Viewing Angle: 93°
Audio
Microphone: Yes
Speaker: Yes, 2-way audio
Siren: Yes
Audio Range: 16ft/5m
Night Vision
Infrared Night Vision: Up to 130ft/40m (total darkness)
Spotlight Colour Night Vision: Up to 115ft/35m (total darkness)
IR Cut Filter: Yes
General
PIR Thermal/Motion Sensor: Yes, True Detect
PIR Sensor Range: Up to 32ft/10m
Indoor / Outdoor: Indoor or Outdoor, IP66 rated
Operating Temperature: -22°F ~ 131°F -30°C ~ 55°C
Sensor Lights: Yes
Body Construction: Aluminium
Dimensions – Camera: 5.94" x 2.76" x 2.76" / 151mm x 70mm x 70mm
WHAT'S IN THE BOX
NVR-8580 8 Channel NVR with 2TB Hard Drive
NHD-885MSFB 4K Bullet Spotlight IP Security Cameras x 4
Cat5e Ethernet Cable x 5 (60ft/18m x 4 & 3ft/1m x 1)
HDMI Cable
Power Adapter
Mouse
Mounting Screws & Plugs
Quick Start Guide
Theft Deterrent Stickers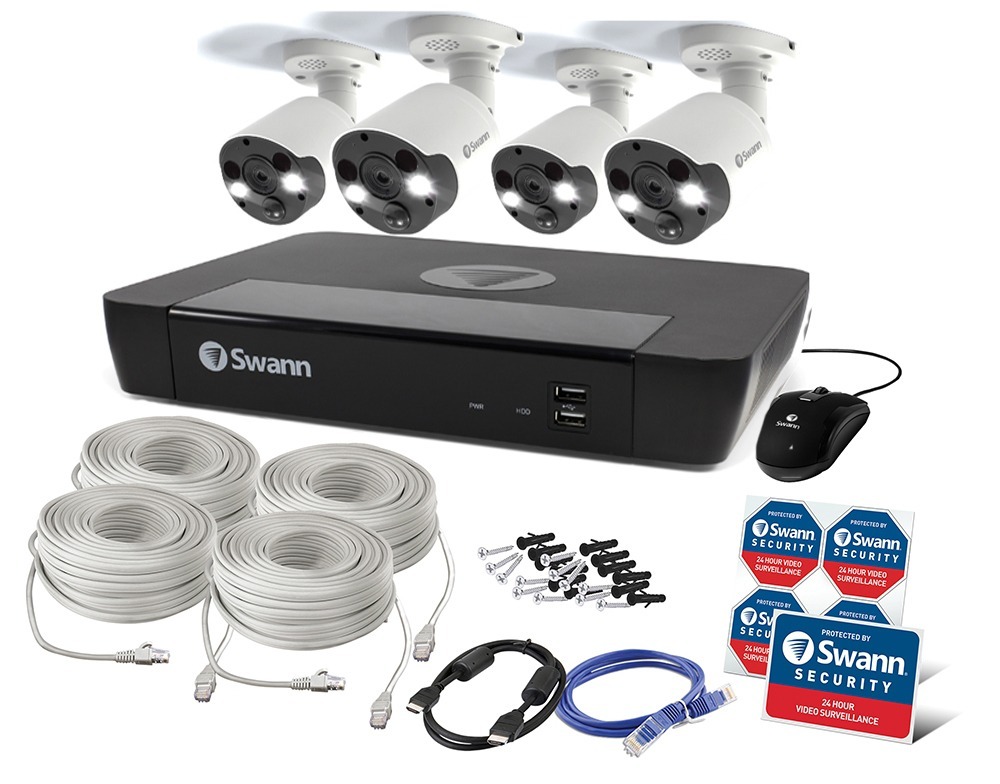 ADDITIONAL RESOURCES