Aeotec Z-Wave Smart Switch 6
Aeotec Z-Wave Smart Switch 6 benefits from nearly a decade's worth of engineering know-how, but to build something this perfect, Aeotec had to start the engineering process from scratch.
Control any switch, from anywhere, wirelessly.
Power sockets and light switches: amazing inventions.
They literally changed the world, but if you're not standing right next to them or can't reach them, they're limited. No more. The future is smarter. So is your home.
Enhancing a power outlet near you
Every country is different. And we've engineered a different plug for every country.
Within the dramatically small size of the Aeotec Z-Wave Smart Switch 6 lies engineering focused not just on intelligence and reliability, but also on safety.
From Australia to Andorra, from the United States to the United Kingdom, every Aeotec Z-Wave Smart Switch 6 has been custom engineered to maximise the volts and amperage it can offer without ever compromising on quality or your safety.
The Aeotec Z-Wave Smart Switch 6 isn't just a smart switch, it's a safe switch.
Compact without compromise, at just 60 x 60 mm the Aeotec Z-Wave Smart Switch 6 is over 84% smaller than  first edition
Even though it's 43% smaller than the recently release Smart Switch Gen5, it still benefits from its industry-leading technology.
Smart Switch
Convenient plug. There's smart. There's convenient. The Aeotec Z-Wave Smart Switch 6 is both.
Uncrowded
Uncomplicated. Plugs that block multiple power outlets aren't just inconvenient, they're annoying.
The Aeotec Z-Wave Smart Switch 6 has been designed to reduce the possibility of that happening. At only 60 mm / 2.3 inches in size, the Aeotec Smart Switch 6 can be used without blocking the outlet its installed next to.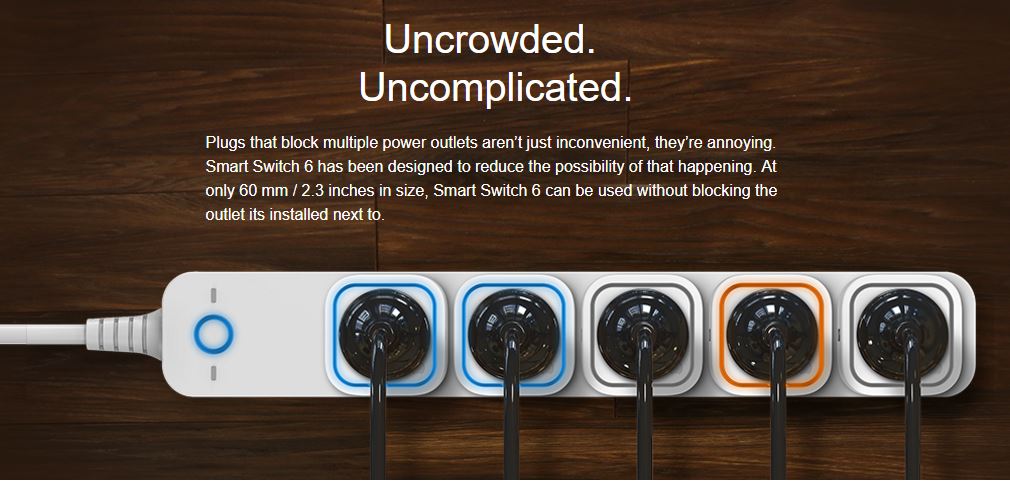 Safe switch
The home isn't just where the heart is, it's where your family should be safest. In the regions where electrical standards allow, the Aeotec Smart Switch 6 prevents objects from being inserted into it via its inbuilt socket protection.
Protective switch
Your loved ones are protected and so are your valuables. The Aeotec Smart Switch 6 features inbuilt surge and over-current protection helping to prevent your electronics from ever being damaged.
Powerful switch
The Aeotec Smart Switch 6 can power devices that draw up to 15 amps of power. But safety comes first, so a different Aeotec Smart Switch 6 has been engineered for every country it's available in, ensuring that it's never overpowered and never unsafe.
Perfect distance
Wireless doesn't mean weak. The Aeotec Smart Switch 6 can communicate with other Z-Wave devices at distances up to 100 metres / 300 feet.
Updated switch
Your smart switch will keep getting smarter thanks to Aeotec's over-the-air firmware updates. Whenever new firmware is released, you'll be able to update your Aeotec Smart Switch 6 wirelessly.
Plug and play
Anyone can install the Aeotec Smart Switch 6. Plug it into a wall outlet and press the action button on the front. Everything else is handled by your Z-Wave hub.
The Aeotec Smart Switch 6 offers completely wireless control of your switches and sockets.
Z-Wave Plus smart plug with real-time energy metering and surge protection.
Wireless on / off control, schedule, and automation of electronics plugged into switch.
Tested to work with Z-Wave gateways including Fibaro, Home Assistant, Oomi, openHAB, Vera and Environexus.
Z-Wave Plus certified.
ADDITIONAL RESOURCES