Chuango Wireless Solar PIR Sensor – Weatherproof & Outdoor Suitable PIR Motion Sensor
If you have an outdoor area that needs protecting, our Chuango Wireless Solar PIR Sensor with dual technology is the way to go.
The Chuango Wireless Solar PIR Sensor has both Passive Infrared and Microwave sensor technology which is ideal for outdoor use.
Having dual technology reduces the risk of false alarms and means it can effectively detect human body movement.
This PIR is not pet immune however it will not detect small animals such as possums, rats and birds.
The rechargeable lithium battery will provide up to 30 days standby power during long periods of reduced sunlight conditions.
The lithium battery is recharged by the solar panel located on the top of the sensor so it is essential the PIR is installed in a location that will receive sunlight.
Product Specifications
Wireless connectivity of up to 40 metres for open spaces
Wireless connectivity of up to 30 metres through walls
Battery Type: 18650 3.7V 1800mAh Lithium
Battery Standby Time: 150 days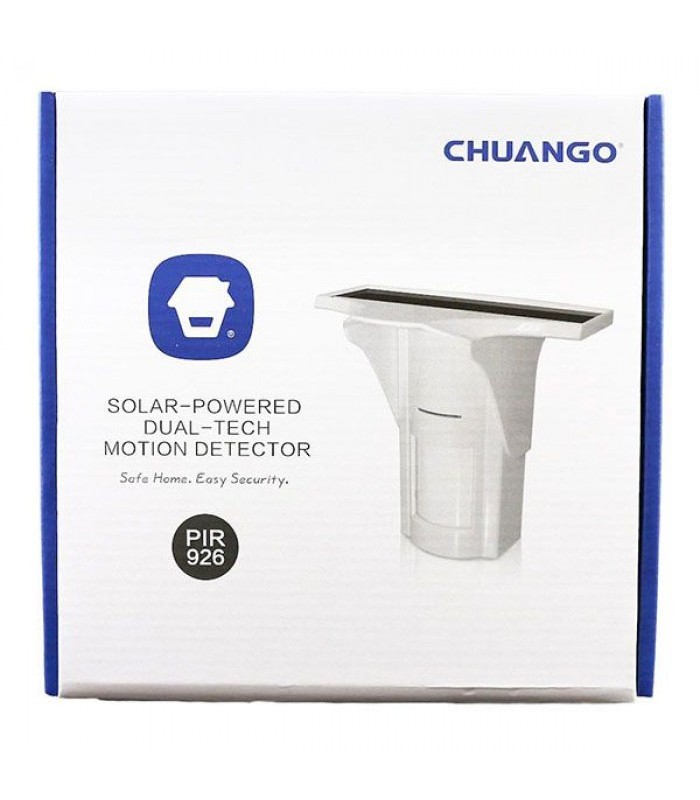 Further Product Information