Water Sensor 6 Dock
Aeotec's Water Sensor 6 protects your home from leaks and floods in the easiest of ways: you place it down, connect it to your Z-Wave network, and it does the rest. Dock is a pro-tool that expands Water Sensor 6, making it the most advanced Z-Wave flood sensor available, with multiple additional features.
Monitor 2 separate areas
Connect 1 or 2 of the provided spot sensors to Dock to monitor for leaks up to 3.3 feet away from Water Sensor 6.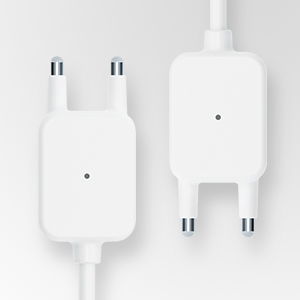 No more batteries
Use your own USB charger and the provided USB cable to power Dock from a mains power outlet. Now Water Sensor 6's battery acts as an emergency backup.
Wireless optimized
Install Water Sensor 6 at any height using Dock. Convenient for some homes, and convenient for some installation as it can improve the performance of the Z-Wave Plus antenna.
Pro-tool. Pro-tection
Dock makes Water Sensor 6 the most advanced Z-Wave flood sensor.
WHAT'S IN THE BOX
3M double size adhesive tape.
Desktop style of adapter without pins.
Dock for Water Sensor
6.Mounting screws.
Spot sensing rope x 2.USB cable for optional power supply.
ADDITIONAL RESOURCES