Eve Smart Motion Sensor
Automatically control connected accessories via your presence – without bridge or gateway.
Let your presence bring your home to life, and know of activity as it's happening with the Eve Smart Motion Sensor . Automatically trigger scenes and accessories as you enter or exit a room. Receive notifications when movement is detected. And be alerted while you're out and about, courtesy of your ever-present home hub. Leveraging the power of revolutionary Apple HomeKit technology, Eve Motion connects directly to your iPhone or iPad via Bluetooth low energy technology.
Be informed: receive notifications when movement is detected, courtesy of your home hub

Indoor and outdoor

HomeKit-enabled: unparalleled ease of use and advanced security

Truly wireless: powered by long-lasting, replaceable batteries

Easy setup: direct connection via Bluetooth low energy technology – no bridge or gateway required
Eve Smart Motion Sensor – Wireless Motion Sensor (HomeKit)
Never fumble for switches again
Activate your lights, media centre, or any other connected devices – all at once – simply by setting foot inside your room.
Monitor while you're away
No one home? If movement is detected while you and your loved ones are out, your home hub will ensure that you receive a notification.
Cover any space
Eve Motion is comfortable both indoors and out. A 120-degree field of view spanning 9 meters of range gives you plenty of room to play with. And truly wireless operation permits total freedom of placement.
Rule your home
Enrich scenes with powerful rules to automate accessories on your conditions. Automatically activate your "I'm home" scene in which your connected ceiling fan and ambient lighting switch on, but only after sunset. Then have everything turn off if you're out of the room for ten minutes, provided it's past your bedtime.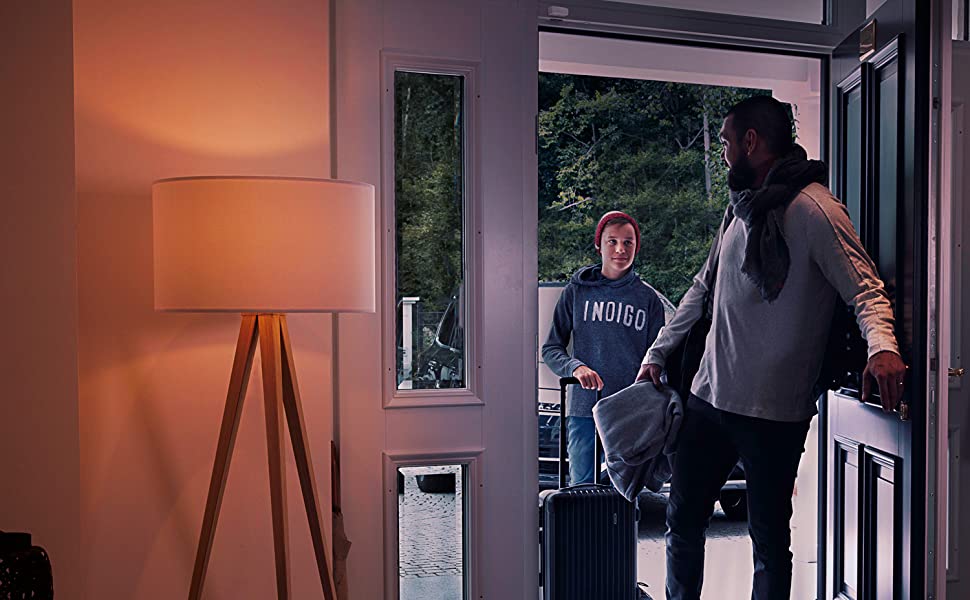 Motion: detected – Lights: on

Command on demand
Set scenes in a flash via Siri, your Control Centre, or Apple Watch. Easily engage accessories using the Home app on your iPhone, iPad, or iPod touch. And to see concise records, gain insights, and enjoy full control of your connected home, look no further than the Eve app.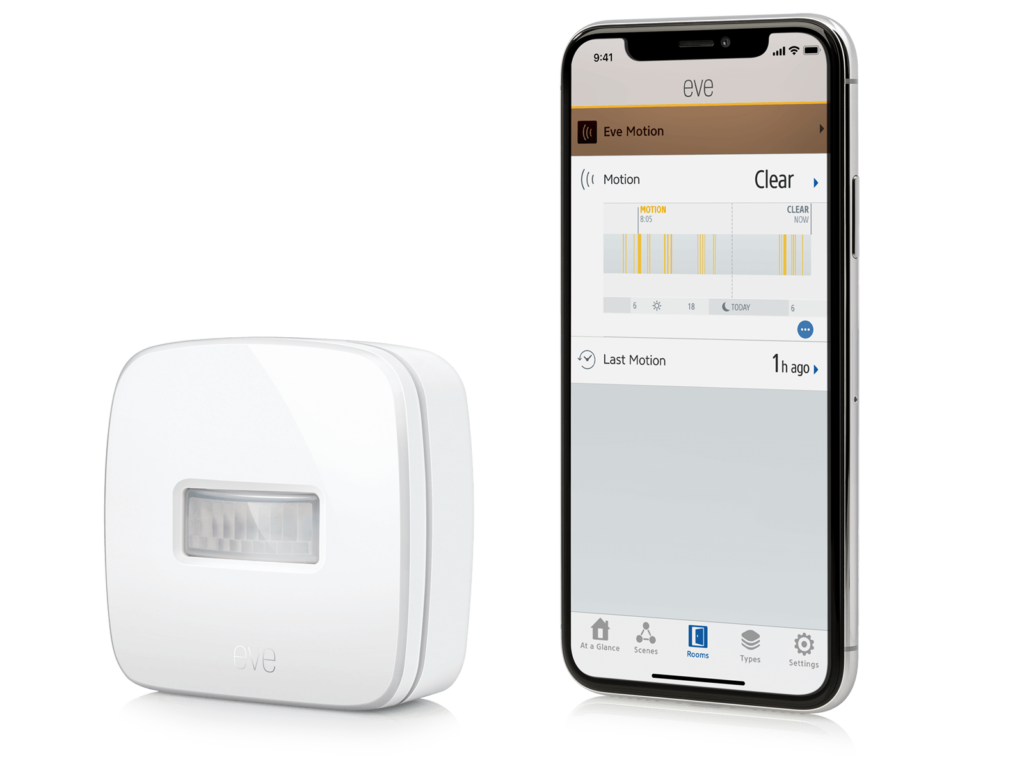 Compatible with your ecosystem
Straight out of the box, the Eve Smart Motion Sensor accessories work with your iPhone, iPad, iPod touch, and Apple Watch. Your HomePod, HomePod mini or Apple TV will serve as a home hub, seamlessly automating your accessories and keeping you connected while out and about.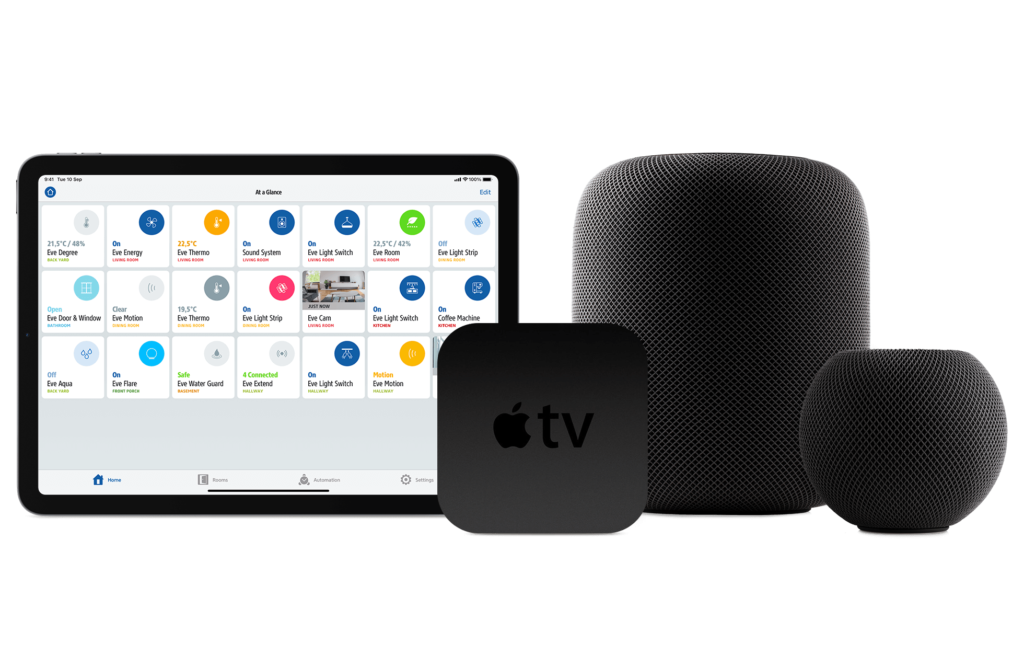 TECHNICAL SPECIFICATIONS
Operating Range
Field of view: 120°
Distance: 9 m / 30 ft. max at 2 m / 6.5 ft. mounting height
Operating temperature: -18°C to +55°C (: 0°F – 130°F)
IPX 3 Certified
Reaction time: two seconds
Power
2 x AA Replaceable Batteries
Wireless Connection
Dimensions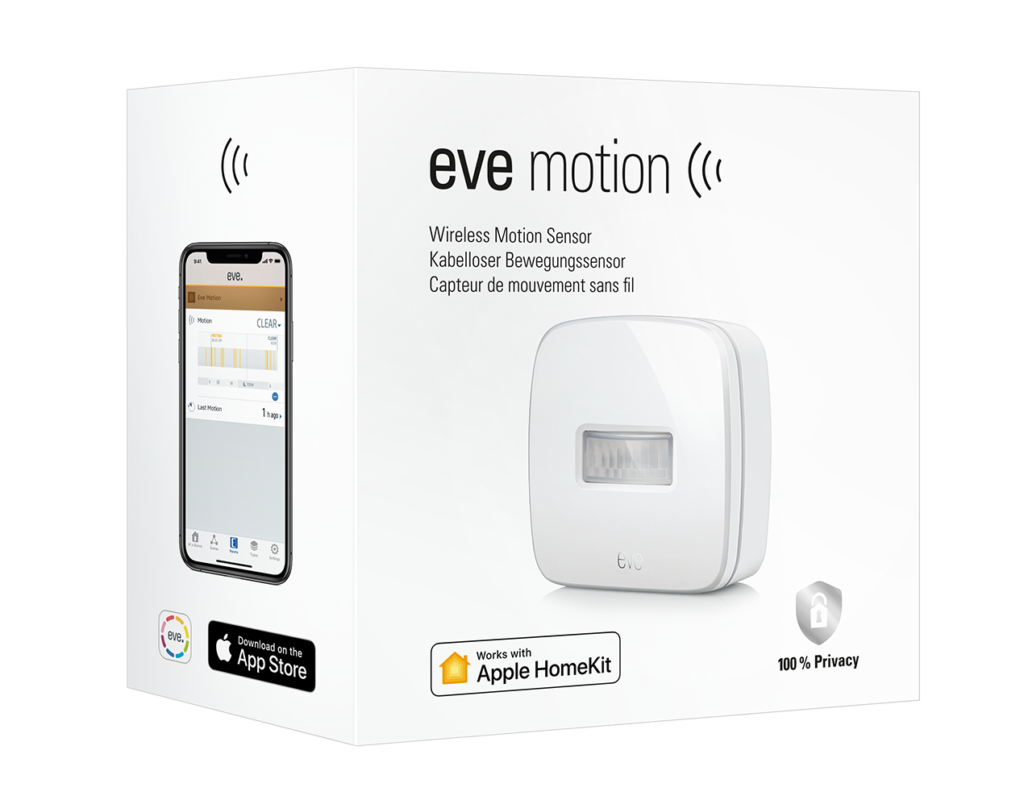 Compatibility
iPhone or iPad with iOS/iPadOS 14 or later
Controlling this HomeKit-enabled accessory automatically and away from home requires a HomePod or an Apple TV (4th generation or later) as a home hub
Notifications away from home require a home hub