Swann 4x 5MP Super HD Bullet Cameras with 8CH 2TB NVR – 2TB HDD, Heat & Motion Sensing + Night Vision & Audio Cameras
Peace of Mind From Every Angle with this Swann 4x 5MP Super HD Bullet Cameras with 8CH 2TB NVR Security System
Reliable Wired Connection
Protect your loved ones & property with this multi-camera, wired surveillance system with everything you need to do-it-yourself or have it professionally installed
See & Hear Everything in Super HD
See faces, license plates, packages & more with state-of-the-art 5MP Super HD, that's 2.4x clearer than 1080p with powerful digital zoom – ensuring you won't miss a thing
Protection 24/7
See in the dark with night vision up to 130ft/40m. Mount the 4 cameras indoors or outdoors. Add 4 more cameras, including Ultra HD 4K (8MP) cameras, for full 8 channel monitoring
Heat Sensing
Swann's True Detect™ heat & motion-based PIR detection reliably captures & records activity, with fewer false triggers & reliable push notifications
Set & Forget
Enjoy local recording for up to 300 days+ onto the massive 2TB hard drive with no fees ever. Save still images directly to your Dropbox account
Security Made Smarter
Cut the cost of crime & know what's happening with this expandable Super HD security system to suit large homes, offices, small businesses & retail stores
Speak to See
Enjoy hands-free security using voice commands with this Swann 4x 5MP Super HD Bullet Cameras with 8CH 2TB NVR Security System
Stream video from your camera via the Google Assistant & Chromecast, Google Home Hub, or via Alexa devices with a screen, such as Echo Spot, Echo Show or 4K Fire TV.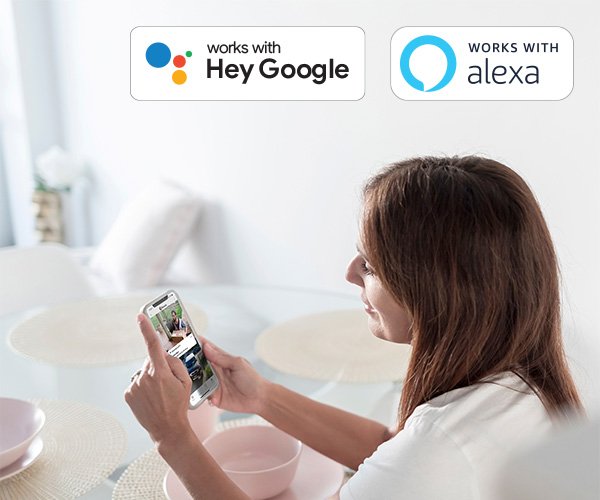 Audio Adds Another Layer of Evidence
Hear off-screen noises and identify voices by their gender, age, accent & language.
Record conversations and make sure your kids or elderly family members are being well taken care of by anyone assisting them.
See everything day or night
Swann 4x 5MP Super HD Bullet Cameras with 8CH 2TB NVR Security System can see in the dark up to 130ft (40m) with the powerful infrared night vision which automatically kicks in as the night falls.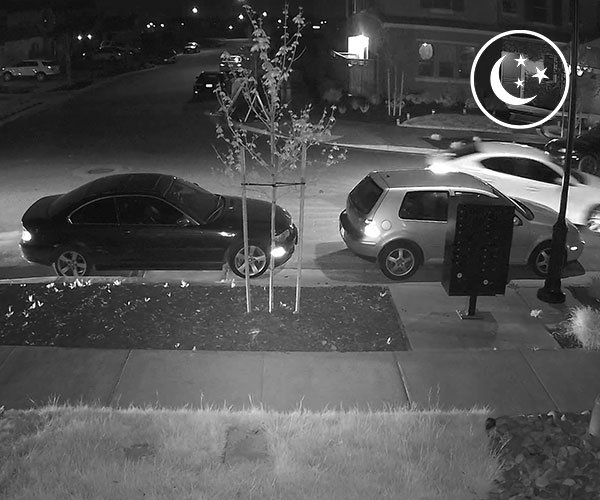 Save Evidence Off-Site
Upload footage from up to 2 cameras and still images from all cameras to your Dropbox account in the cloud.
So even if your Swann 4x 5MP Super HD Bullet Cameras with 8CH 2TB NVR video recorder gets stolen, you'll have video evidence off-site.
Free Storage with the Massive HDD
The massive 2TB HDD can store months of recordings before it starts saving over older footage.
Easily transfer videos to a USB stick or download via network with no ongoing fees ever.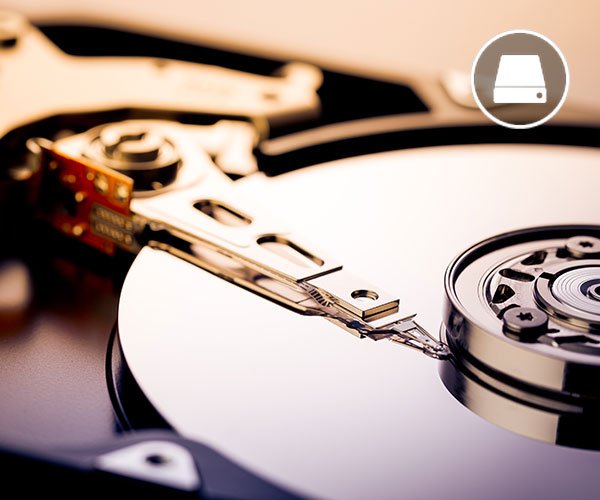 Easier Installation with Power over Ethernet
Power, video and audio run through a single Ethernet cable per camera with Power over Ethernet cabling, PoE, making installation a lot simpler.
Expand Coverage Area
Add up to 4 more cameras for a total of 8 to cover any blind spots.
Add 4K/8MP cameras, which are 1.7x clearer than 5MP and come with video analytics exclusive to 4K cameras, like Face Detection, Intrusion Detection and others.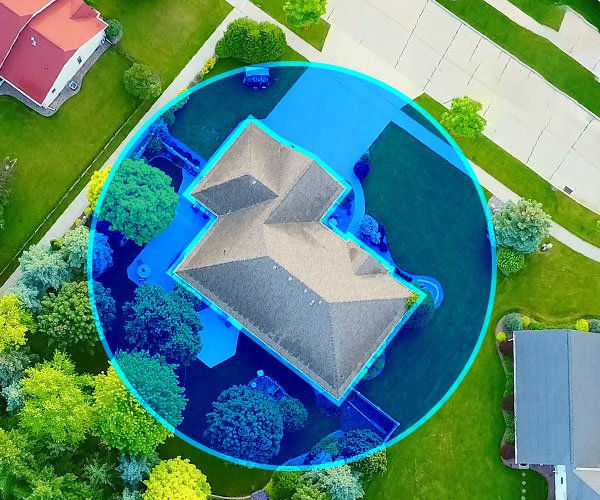 Add Spotlight Cameras
Add 5MP or 4K (8MP) Spotlight Cameras with powerful deterrence technology.
Super bright spotlights turn on when activity is detected, bringing image to colour.
The speaker sounds a siren and allows you to talk back to scare off intruders.
SPECIFICATIONSNVR-8580 Channel Network Video Recorder
---
Video
Video Input: 8 Channels
Video Outputs: VGA, HDMI
Display Resolution: Up to 4K
Audio
Audio Input: 8 x via PoE Ports
Audio Output: 1 x RCA
Recording
Compression Format: H.264 / H.265
Recording Resolution: 5MP, up to 4K (8MP) with addition of 4K compatible cameras
Playback Speed: Frame Rate up to 15fps @ 5MP
Hard Drive
Hard Drive Included: 2TB
HDD Capacity: Up to 6TB
Connection
Network Interface: RJ45 Port x 1
USB Interface: USB 2.0 x 3
Software
Computer Operating System: Windows, Mac OS
Internet Viewing: Swann Security App (newer)
HomeSafe View (older): Handheld Device Supported iOS, Android, 3G/4G Smartphones & Tablets
General
Dimensions: 9.25″ x 12.2″ x 2″ 235mm x 310mm x 53mm
NHD-865MSB Camera
---
Video
Video Quality: 5MP (2560 x 1920 pixels)
Viewing Angle: 82°
Audio
Microphone: Yes
Audio Range: 16ft 5m
Night Vision
Night Vision Distance: Up to 130ft 40m
IR Cut Filter: Yes
General
PIR Thermal/Motion Sensor: Yes, True Detect
PIR Sensor Range: Up to 32ft/10m
Indoor / Outdoor: Indoor or Outdoor, IP66 rated
Operating Temperature: -22°F ~ 131°F -30°C ~ 55°C
Body Construction: Aluminum
Dimensions – Camera: 5.94″ x 2.76″ x 2.76″ 151mm x 70mm x 70mm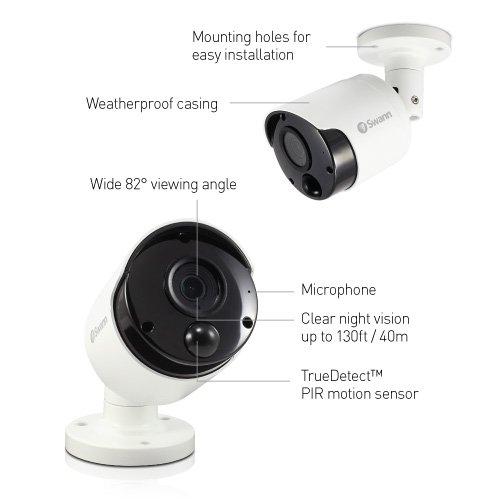 WHAT'S IN THE BOX
NVR-8580 8 Channel NVR with 2TB Hard Drive
NHD-865MSB 5MP Bullet Cameras x 4
Cat5e Ethernet Cable x 5 (60ft/18m x 4 & 3ft/1m x 1)
HDMI Cable
Power Adapter & Splitter
Mouse
Mounting Screws & Plugs
Quick Start Guide
Theft Deterrent Stickers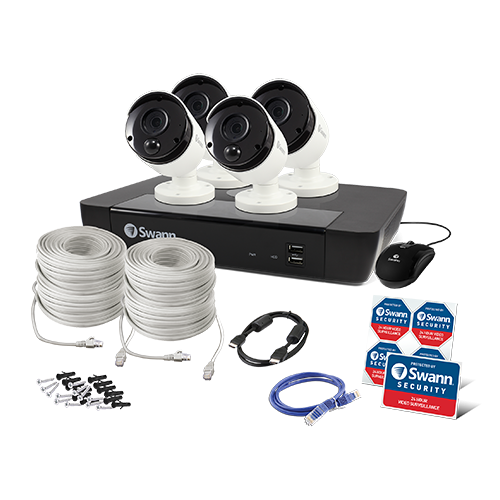 ADDITIONAL RESOURCES